I made use of the $5 gift that Nomorerack sent me as their token of missing my presence from shopping from them. I am thankful for their gesture because it only showed that they valued my presence, right? Of course, because they have earned from me for a few times late last year when I did a lot of shopping from them. Because they sent me this:
…i had another reason to shop from them again to make use of the $5. Good enough as I think of some treats that I can give myself for my birthday. Actually, yesterday, this was what I came up with in my shopping cart:
The Stud detail top with fuller cut throughout the body for a classic tunic fit. It has a romantically cut wide sleeves and a drawstring bottom by the lower waist with gorgeous studded detail. What do you think?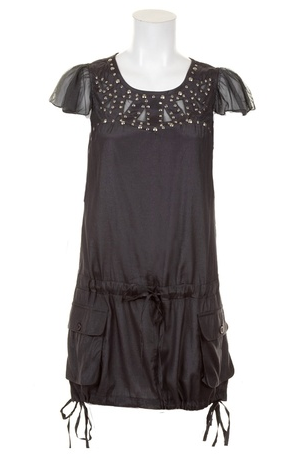 I am not sure if I can get to wear this this year with my pregnancy but I did order a large size so we'll see. If not, then after giving birth, may be. It's worth it, was it was only $10! You think so?
Another dress purchase was this, for another $9 deal: a satin dress in wine color.
The glamour of satin gets a twist from the adorable design of this charming empire waist sleeveless dress. Gorgeous halter scoop neckline with button up front and ribbon tie accent. It has elegant sheer floral lace back detail and hem trim  and made of a softly lustrous silky satin fabric. It could be dressed up with accessories for a fab evening out, or add a cardi and tights for weekday wear. Material is made of 100% polyester. I thought it is perfect for the summer days. What do you think?
It may not arrived in my hand before my birthday but that's okay; I still consider this as my birthday purchase. I only paid $18 for these two including the shipping so good enough!
83rd/87th of the 366 BPC
11 Responses to "Nomorerack Birthday Shopping"